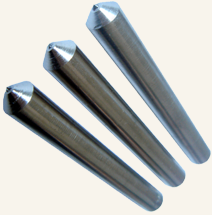 Single Point Natural Diamond Dressers are the most widely used dressing tools for truing grinding wheels. In most cases, they are the only ones which will produce the required results.
When chosen carefully and used correctly, they can also be the most economical.
Single point diamond dressers can be manufactured according to your specifications.
Single point diamond dresser shanks can be modified or designed to meet your specific requirements.