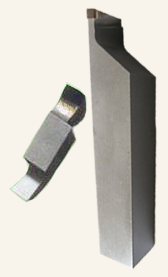 We present to our clients an excellent array of PCD & PCBN Grooving Tools, which is in line with the prevailing industry standards.
Available according to the specifications stated by our clients, these products are offer longer functional life, and are highly efficient.
The service life of welding the PCD/PCBN external grooving tool is 10 to 15 times that of the average tungsten carbide grooving tool and coating grooving tool.
The processing precision of the PCD/PCBN external grooving tool can reach 3 micrometers.
The PCD/PCBN external grooving tool features small vibration of the blade. It can also avoid the easy breaking of the set screw and the trouble of repeatedly adjusting the tip.
We can manufacture weldingPCD/PCBN external grooving tool of various specifications according to the need of our customers.
The PCD internal grooving toolis used to groove and cut various materials including copper, aluminum, copper alloy, aluminum alloy, tungsten carbide and nonmetal work pieces. For example, it can be used to process aluminum alloy piston.